Launch Location
RIMRA secured a launch site a 3000ft x 1500ft sod farm located in West Kinston Rhode Island. The field owned by University of Rhode Island and operated by a private farmer both of which have granted approval to launch at .
We are a low-power and high-power club and can fly any rocket to 1,500 feet. Anything over 1,500 feet to 3,000 feet we need clearance from TF Green's tower who has final right of refusal.
At this time, launches will be held monthly on second Saturday of each month, with Sunday reserved as a Rain Date.
Launch dates will be posted to the Calendar along information.
When the field is wet the farm manager wants us to stay off the field with cars. So parking will need to be in the spots at the farm buildings or along what appears to be a horse riding ring just north of the buildings. We all will have to walk in from there.
Please read launch Protocol http://www.rimra.org/launchsite/launch-protocol/
We have received FAA waiver and National Association of Rocketry (NAR) members are covered under the NAR insurance We highly recommend you become a member of the National Association of Rocketry (NAR) http://www.nar.org/NARjoin.html
The launch site is located on University of Rhode Island Property. The Launch field is located across Rt138 from the University of Rhode Island's Ryan Center parking lot at the end of Peckham Farm Road.
Address of Launch Site: Peckham Farm – 55 Peckham Farm Rd West Kingston, RI 02892
Google Map reference:
From the South Take I-95 North to Exit 3A (Route 138 East). Continue east on Route 138 for about 11 miles to the University past the outdoor marquee and Boss Ice Arena. Turn right onto Peckham Farm Rd.
From the North Take I-95 South to Exit 9 (Route 4 South); follow Route 4 to Route 1 South. Stay on Route 1 until the intersection of Route 138 West. Turn right on Route 138 and travel for about 6 miles. Go straight past Upper College Road where you see the Large University of Rhode Island stone wall. Continue for about 1/3 a mile and then turn left onto Peckham Farm Rd.
From Newport Follow Route 138 West over the Newport and Jamestown bridges to Route 1. Take Route 1 South to Route 138 West. Travel on Route 138 west for about 6 miles. Go straight past Upper College Road where you see the Large University of Rhode Island stone wall. Continue for about 1/3 a mile and then turn left onto Peckham Farm Rd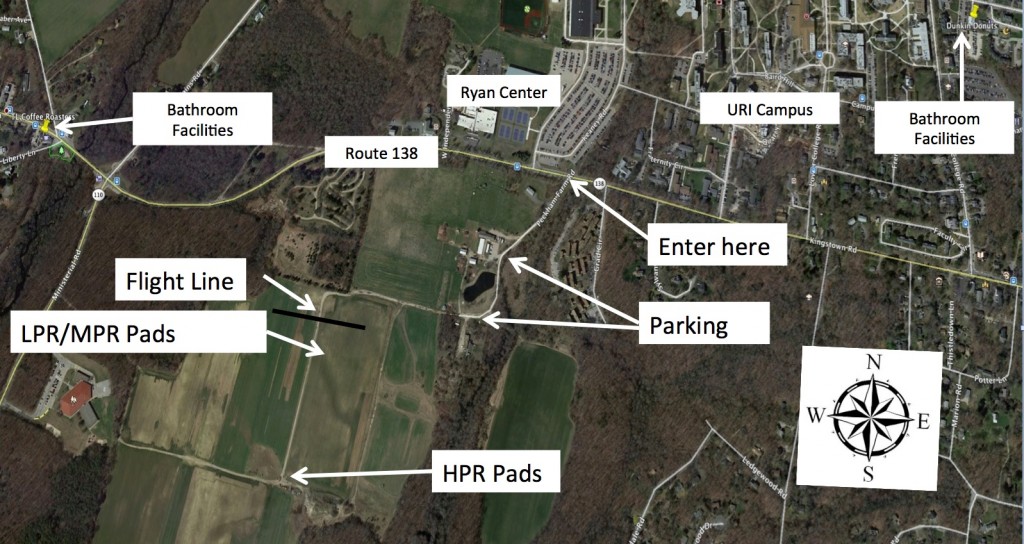 RIMRA Launch Site
GPS Coordinates 41.4769929778, -71.544958301